STORIED AND SPIRITED— JUST LIKE OUR CITY
If you pause for a moment at the intersection of Olive Street and North 4th Street, you can see and feel the incredible energy that has inspired so many throughout St. Louis' rich history. At The Pennywell St. Louis Downtown, a Hilton Hotel, we are proud to be a part of the past, present, and future—honoring the stories of those who came before us and helping to lay the groundwork for an incredible tomorrow.
The fascinating eight-story structure we call home began life as an idea in 1885. Facing financial difficulties and numerous setbacks, architect Stephen D. Hatch and his associate L. Cass Miller worked through years of challenges to complete construction in 1888. A few years after the building opened, one of its most prominent tenants, Laclede National Bank, merged with Merchants National Bank, giving the building a name that's still used today: the Merchants–Laclede Building.
The building has seen its ups and downs over the years, but it has always been a celebration of everything that makes St. Louis great. Today, it proudly guards the intersection of Olive and 4th, a symbol of entrepreneurship, vision, dedication, and triumph.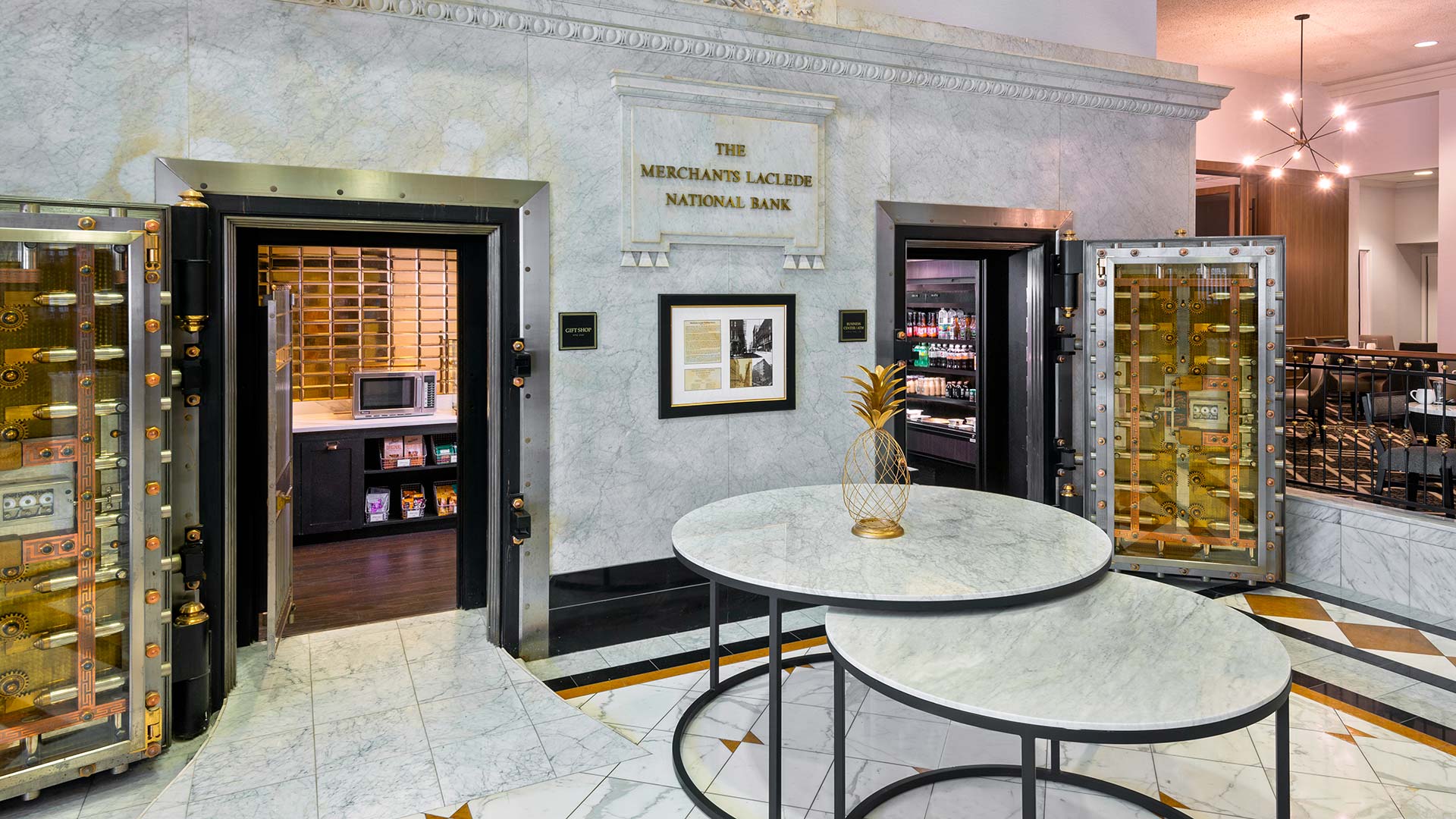 After nearly two decades as the Hilton St. Louis Downtown at the Arch, the hotel in the Merchants–Laclede building is now known as The Pennywell St. Louis Downtown, a Hilton Hotel. The name pays homage to the building's incredible past. Throughout the hotel, you'll find numerous historical elements, such as the original 1888 vault doors, vintage décor, and intricate architectural details, a reminder of where we've been and inspiration for what lies ahead.
Throughout this beautiful building that embodies the history and heart of St. Louis, we hope you'll find the perfect home base as you dream, embark, explore, and rest.
Contact us to make your reservation at this iconic St. Louis landmark.
Great things await you in St. Louis, and we're excited to be a part of your story. For more information or to make a reservation, contact us at 1-800-HILTONS or use the form below.